Seems like everyone and his dog has a fitness/activity tracker nowadays, and for good reason – they help you stick to your health goals like nothing else!
From keeping you fully aware of your energy intake, to gently nudging you awake at the optimal time so you're not feeling zombiefied, I think they are an amazing thang.
You'll have no excuses not to reach goals and smash them this year with one of these intuitive pals by your side, and there's one out there for everyone – whether you're a couch potato who gently wants to build up momentum, or a elite athlete who needs full in-depth stats fast.
For the past few months, I have been on the hunt for the perfect tracker (for me), and I thought I would share my 5 faves with you!
Whether you have minimal cash to splash, or you have massive bank leftover from a generous Santa, there is going to be one here to suit your budget.
---
JUST THE BASICS:
I am going to sound incredibly biased throughout this post, as Jawbone feature a few times here (No I'm not sponsored by them – IF ONLY)!
But do you own Google research and all reviewers will sing the same tune – Jawbone's UP Move is the best you'll get in the lower price range.
With wireless Bluetooth Smart syncing to your phone, Jawbone's UP MOVE not only tracks your daily steps, exercise and calories burned throughout the day, but also monitors your sleeping patterns and tells you the time via cute little LEDs.
Contained in its very own little "clip home", you attach this one to your pantaloons, tee or what have you. You can also buy a wrist band for it separately which I would highly recommend, for more accurate sleep tracking.
By sensing your micro movements, it can tell when you are awake, or in light or deep sleep. It then uses this all of this personal info to help you become a healthier, brighter you with help from Smart Coach. This nifty guardian angel on your shoulder gives you regular hints, tips and guidance through the Jawbone phone app, and dishes out fun Smart Goals to smash on a daily basis.
Jawbone UP Move retails for $49.99 AUD, making it IMO, the best choice from the entry-level trackers.
---
THE TECHIE NERDS DREAM: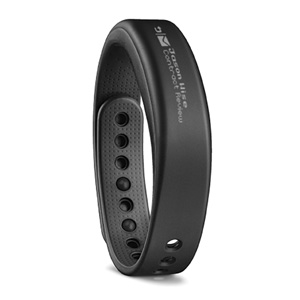 The new super sleek and fluid Vivosmart by Garmin is absolutely jam-packed with features, and it definitely one to consider.
By giving the band a tap and swipe, you can see cool data such as steps, calories burned, distance travelled, and time of day. And that's just the beginning…
The Garmin Vivosmart also displays incoming texts, calls AND emails, can trace the location of your lost phone with a "warmer/closer, colder/further" style game, has an inactivity alert if you're being too lazy on the couchy, and also has a daily auto goal feature to keep things challenging.
By wearing the Garmin Heart Rate monitor (can purchase it with your Vivosmart or without), you are able to get accurate heart rate readings during your workout sessions. While I love all the other cool fancy features, it feels like this one comes up a little short.
Most of the latest and greatest activity trackers now have integrated heart rate monitoring in the band, and the thought of wearing a heart rate strap all day if I want to track my resting heart rate, well, it's just plain silly.
Even with this added meh, the Garmin Vivosmart is still very popular thanks to all it's whatsits and whodads.
The Garmin Vivosmart currently retails for $199 AUD for just the band, or $229 with the heart rate monitor strap included.
---
THE INVISIBLE MAN:
Where art thou Jawbonio?
The elusive, hotly-anticipated Jawbone UP3 was set for release in the U.S in November 2014 – but alas, here we are in February. Still waiting (im)patiently.
Many a Christmas gift dream was crushed, as all those on the U.S pre-order list were kindly told Fitness Santa won't be coming this year, and instead, that he will pop up in early 2015. There is still no official release date as yet – apparently some final kinks are being worked on.
Geez, I would NOT want to be part of their customer service department right now. EEP.
Said to be the most advanced activity tracker on the market yet, it will measure and track like nothing else before it.
Featuring state of the art bio-impedance sensors, it will measure heart rate, respiration and GSR (Galvanic Skin Response).
With constant accurate analysis of your resting and active heart rate, skin temperature, ambient temperature AND hydration levels – it makes for one extremely powerful new friend. It will learn to auto-detect your activities, so you can go from swimming (it is water resistant to 10m) to running to hiking, without pressing a button. You'll get the workout run-down instantly in app to view as soon as you hit your cool-down.
It features the Idle Alert (also seen in the UP and UP24) – a silent, vibrating "hey you" buzz that reminds you to get off your butt and get moving if you have been still for too long.
This same lil' silent hum is used in its Smart Alarm.
Simply set your preferred wake-up call (choose a 30min timeframe) and it will sense when you are in light sleep during that halfer, and you'll be cheerfully nudged awake. This will bring you into brighter, almost coffee-less style mornings, all without disturbing your still sleeping companion.
Rad, right?
While this one doesn't have many other fancy bells and whistles (doesn't display the time or incoming calls), it is the bones of the Jawbone UP3 that has people super excited. I would happily give up all those gimmicky extras, in exchange for maximum workout detail and accuracy.
The hype is definitely real – I will eagerly continue waiting on this guy with the squillions of other Jawbone fans, and yep – I expect with my excitedly peaked heart rate upon its arrival, I'll bust it Day 1.
While not yet released, the current pre-order price for the Jawbone UP3 is $179.99 U.S, and it is rumoured to be around $230 AUD upon release here.
---
THREATENING TO DOMINATE:
Just released in late January in Australia, the Fitbit Charge HR is absolutely smashing it sales-wise.
They closely share the title of King of the Activity Trackers with Jawbone, and with the delay of the UP3, they may well just topple the throne.
Winter is coming? Haha. (You know nothing, Jawhn Snuhhh.)
I almost changed sides recently, almost went full Bit – but I'm desperately holding off.
I may just cave someday soon…
This is one incredible competitor with a lot of amazing features, first being the Pure Pulse Heart Rate monitor which measures resting and active heart rate. While it has been tested as slightly laggy, being 10bpm behind at times, it's not a total deal-breaker. Close enough is totally fine for some. Then there's those who wanna be told when they are thirsty, when they need to go to bed, and how to part the ocean (UP3).
One obvious awesome feature of the Fitbit Charge HR is that unlike UP3, this has a beautiful OLED display. From here you can see some pretty cool stuff at a glance – date and time of day, steps, heart rate. flights of stairs climbed, distance, calorie burn, AND active minutes. PHEW.
Not only all that goodness, but if your phone is nearby, it will alert you of the name of the incoming caller. It also has the handy sleep tracking and silent alerts…I gotta say, I'm freaking convincing myself to get one just writing this article!
Again, similar to Jawbone, it features wireless syncing to your smartphone, where you can track exercise, earn badges, compete against friends and log all your eats. It pretty much has it all.
The Fitbit Charge HR currently retails for $199.95 AUD.
---
THE MIDDLE CHILD:
My current "intermission" friend – I am actually wearing one of these babies as we speak!
For those who are after something a lil' more affordable, but still with excellent features, the Jawbone UP24 may be the one for you.
With just a tiny bit more oomph than the simpler Jawbone UP Move, the UP24 does all the same sleep and step tracking, but it also has a vibrating motor inside, for Idle Alerts and the Sleep Alarm.
Pair this with the outstanding intuitive Jawbone app, and you have the bare bones to get you on a healthier path fast.
Since buying mine a couple of weeks back, I have noticed a few things:
– I awaken in the mornings FAR more refreshed than before, thanks to the awesome silent Sleep Alarm. My partner also loves that it has replaced my rowdy ass iPhone alarm;
– My tum feels much less bloaty. Apparently my fiber levels were way unacceptable;
– and on the reg, I was taking as many steps daily as a three toed sloth.
The UP24 really has ramped up my motivation, and I am loving it. With all the Smart Coach advice and fun goals to smash, it makes a game out of getting healthy and fit.
If you have struggled to stay on the wagon, this will certainly strap you in tight and get you on the road again.
Jawbone's UP24 retails for $129.99 AUD.
---
While all of the above are amazing, I think the picks of the bunch are the Fitbit Charge HR and yet to be released Jawbone UP3.
My advice if you are still unsure which one to buy?
Download the free Jawbone, Fitbit and Garmin apps – you can use your smartphone as the accelerometer to measure steps and test out which one you like best! I personally love the Jawbone interface the most, with Fitbit a close second, and Garmin third.
Do you currently sport one of these activity trackers?
Let me know in the comments below – if you are a Jawbone junkie too, I may just have to add you to my team!
UPDATE: I've crossed over to the Fitbit team since – and don't regret a thing.